Hey jammers, TT Coyote here. The 4th of July is nearly here, and with it came freedom plushies!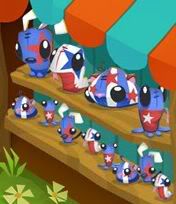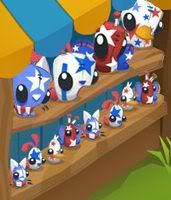 These freedom plushies can be found on either side of the Summer Carnival.
Here are all the plushies you can collect (notice that there are freedom snakes on the shelves.)
And in the Summer Carnival is a new suggestion box.
And thank you Scar for telling me about the new clothing item slots!
There is a new Jam-a-gram in celebration of the new Penguins Only Party.
That penguin looks rather unhappy doesn't he? Hehe... :D
On the second page of the newspaper there is a riddle.
What do you think it could be? I'm thinking a fox most likely, or some kind of cat.
And unfortunately the new pet has not come out yet, I suppose AJ HQ is still looking at all the entries.
And in Sol Arcade there is a arcade machine sale, last time it was a den sale.
Arcade machines will be on sale for two weeks.
Also there are 4th of July decorations all around Jamaa.
Well that's all for now, TT Coyote signing out!
(Oh, and thanks everyone who fed Hank and Drover. They sure appreciated it!)